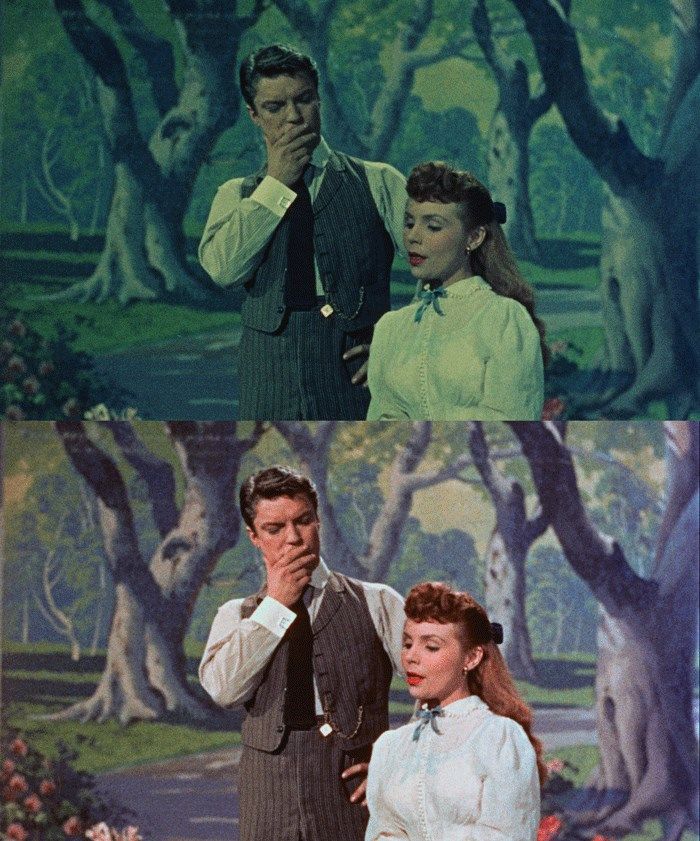 The 3-D Restoration of Those Redheads From Seattle was one of the best experiences I've ever had with a 3-D movie. The colors, the songs, and action, and the characters were fascinating, and seeing a wonderful film for the first time with like-minded friends makes the moment even more enjoyable.
Here's the latest on that restoration from Bob Furmanek, and 3-D Film Archive, LLC:
The above photo "is the original scan vs. the end result as delivered by 3-D Film Archive on THOSE REDHEADS FROM SEATTLE.
The 35mm negatives - and especially the many opti...cals (dupe negative) scattered throughout the film - are terribly faded. On top of extensive color correction and flicker reduction, factor in the meticulous shot-by-shot stereoscopic alignment/panel matching by Greg Kintz and frame-by-frame dirt/damage clean-up by Thad Komorowski and you would expect a restoration of this caliber to easily run six figures. In fact, if it went to a post facility like Photokem in LA or Cineric in NY, it could easily have run $200K, or more.
We brought the entire restoration in for $14K.
If we had tried to raise more than ten times what we ultimately spent in bringing this rare film back to life, it would have never been seen in 3-D again. There's simply not enough profit to be made with a 3-D Blu-ray release. But for three months, we worked around the clock to make this happen. Multiple favors were pulled and many sleepless nights went into finishing the master. We believe you will be quite pleased with our results.
REDHEADS was a big hit when it premiered at the TCM festival and you can own it on 3-D Blu-ray when it's released by Kino Lorber on May 23!"