I recognized quite a few of them. Angie Dickinson and Natalie Wood are on either side of Jack Warner. The cowboy stars were easy, as well as the guys with the straw hats. I did a little googling and here is what I found: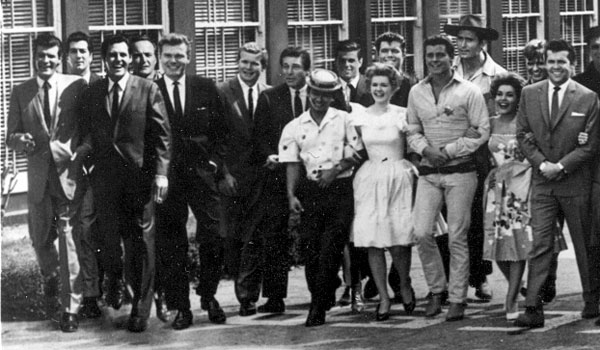 (L-R) Roger Moore, Ray Danton (?), Lee Patterson, unknown, Donald May, Gary Vinson, Effrem Zimbalist Jr., Poncie Ponce, Robert Logan, Connie Stevens, Sammy Jackson, Peter Brown, Clint Walker, Margarita Sierra, Will Hutchins, unknown.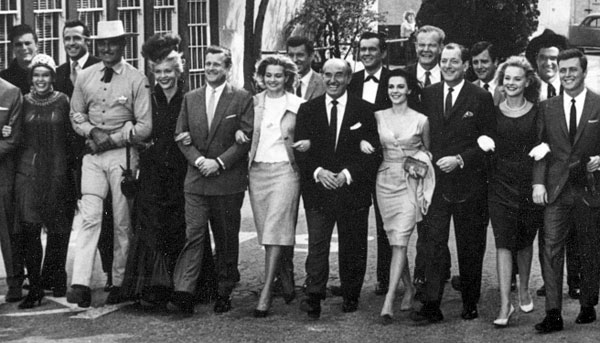 Max Baer Jr., Dorothy Provine, Rex Reason, John Russell, Peggie Castle, Bill Orr, Angie Dickinson, Anthony Eisley, Jack Warner, Jack Kelly, Natalie Wood, Andrew Duggan, Hugh Benson, Richard Long, Diane McBain, Robert Colbert, Edd Byrnes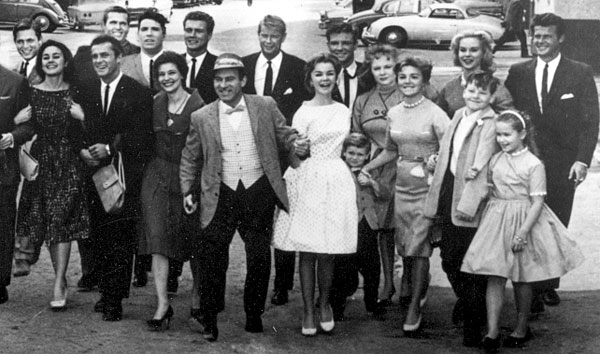 Unknown, Sharon Hugueny, Robert Conrad, Ty Hardin, Van Williams, Jacqueline Beer, Roger Smith, Louie Quinn, Troy Donahue, Joanna Barnes, Grant Williams, unknown, Peggy McKay, Arlene Howell, children unknown, Roger Moore.
Hugh Benson was a writer and producer. William Orr was the executive producer of Warner Bros. Television. His name appeared on the credits for shows represented by the actors here. They include:
Bourbon Street Beat
Sugarfoot
The Roaring Twenties
Maverick
Bronco
Lawman
Cheyenne
Surfside 6
Hawaiian Eye
77 Sunset Strip
Roger Moore can't be on both ends of the same picture. I'm thinking that the man on the extreme left may be James Best. I can't be sure.