Hell's Island (1955).
The last of the trio of gritty, hard boiled thrillers director Phil Karlsen made with John Payne, this was the first one shot in colour. The first two in the series, Kansas City Confidential and 99 River Street, both frequently broadcast on TCM, remain among the highlights of both men's careers as moody, hard boiled explorations of crime dramas.
The same cannot be said for Hell's Island inasmuch as so much of its hackneyed story line seems so derivative of so many other films of the same nature. It's watchable if only because Payne (best remembered by many for his light hearted musicals and generally fluffy film affairs in the '30s and '40s) developed, as he matured, into a surprisingly convincing screen tough guy, and Karlsen was a good director of action scenes.
But this film - well, you've seen so much of it before that it's all starting to look a little tired this go round. There's the first person narration by Payne, a missing rube, konks over the head sending our hero into bye bye land for a while, a former flame still under our hero's skin who may or may not be a femme fatale (it's pretty obvious what the answer is after a short while), and even (shades of Dashiell Hammett) the familiar sight of a fat man (in a wheelchair this time), always accompanied by a gunsel, who hires Payne to do a job for him.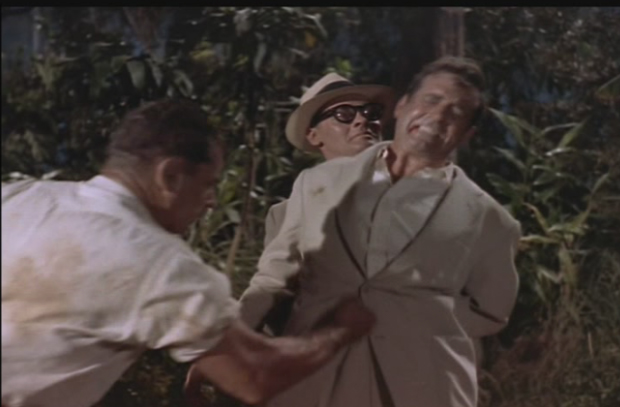 The fat man is Francis L. Sullivan (rather than Sidney Greenstreet) who fires Vegas casino security man Payne to travel to a small Caribbean island (even the amount of money he promises to give him - $5000 - is reminiscent of The Maltese Falcon - remember all that "$5000 is a lot of money" dialogue?) to get back a fabulous rube from old flame Mary Murphy, who jilted our hero years before when she married into wealth.
We actually see Payne get shot by Sullivan under the film's opening titles. He is then on a hospital gurney getting operated upon by a doctor as a police inspector asks him for his story. The camera closes in upon his face as he drags on a cigarette and begins to tell his tale. These guys are so tough they're even smoking while having a bullet removed!
I saw a pan and scan print of what had been a Vista Vision (ie. wide screen) Paramount production. Perhaps the colour photography was a mistake. In any event this film lacks the moody black and white visuals of the previous their previous two films films, nor does it create the same tension to be found in them.
Fans of Kansas City Confidential and 99 River Street will probably want to see Hell's Island anyway, and that's understandable. Be prepared for disappointment, however. At best this one is just another okay time waster out of the tough guy school. For fans of the dangerous ladies to be found in these kind of films, though, Mary Murphy is at least an eyeful even if her character may be a bit obvious.
2.5 out of 4